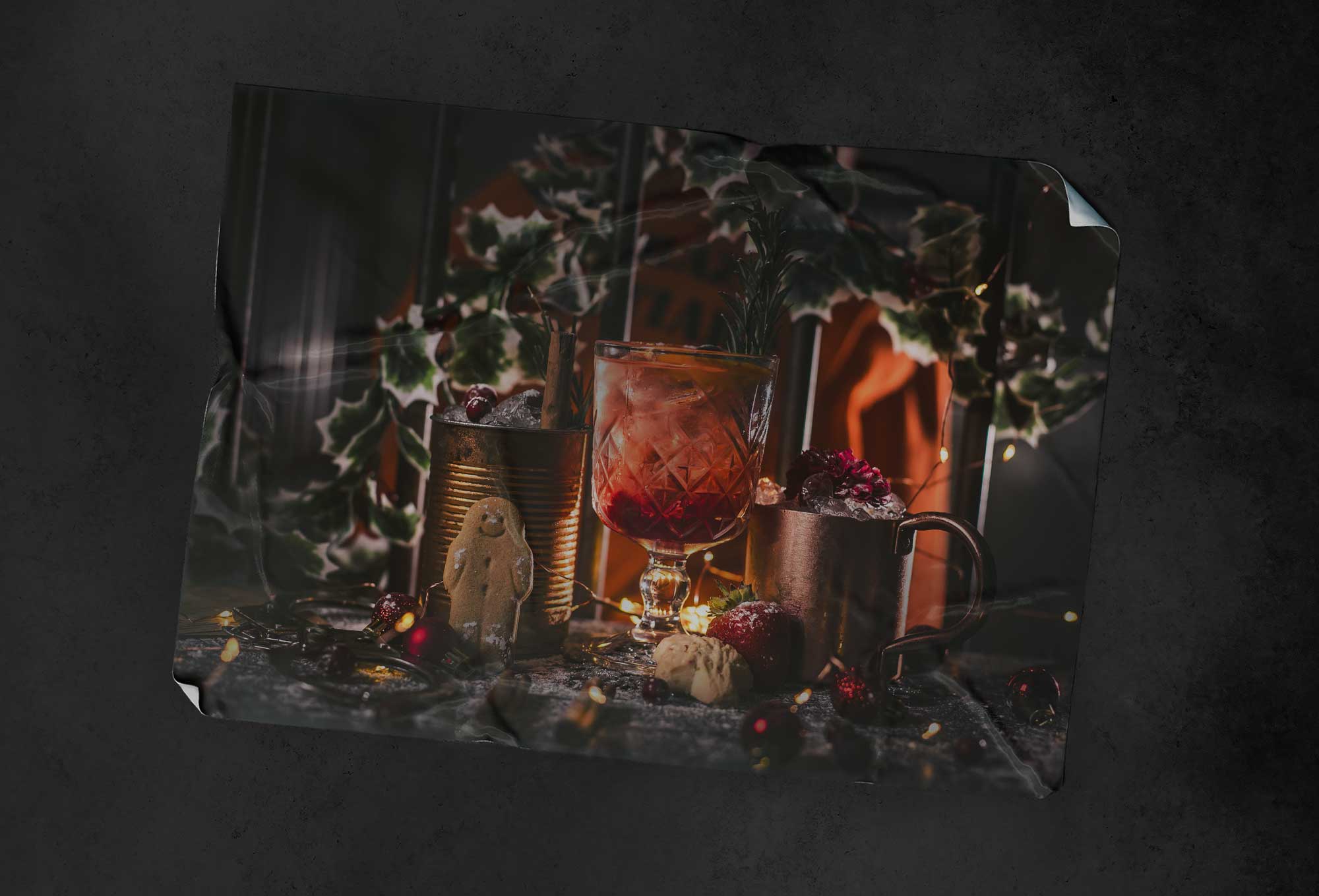 Christmas Parties
Tis the season to get locked up…
Inspired by classic film and TV prison stories, Alcotraz is an experiential, theatrical Christmas party night, like no other.
"All our work force got involved and it was great to see everyone work together to fool the Warden and never snitch. It was an utterly hilarious event and we will all be back next year. Thanks to all the team!"
"We absolutely loved Alcotraz . The actors and the cocktails were superb. One of our drinks tasted like mince pies which was our favourite. "
"Nobody in our party knew what to expect when we entered Alcotraz, we would normally have our Christmas parties on a night out in Covent Garden or with a dinner. But this event looked too good to pass up! It was simply brilliant."
"Spend your Christmas parties in prison! You will not regret it, we even felt like a private dining room with the pizza we had. Just an unmissable experience. Book now!"
"We took selfies on Tower Bridge and thought that was the best group photo until we got on the prison block. The whole place is one big photo op. Can't recommend Alcotraz London enough and will be visiting other cities and locations."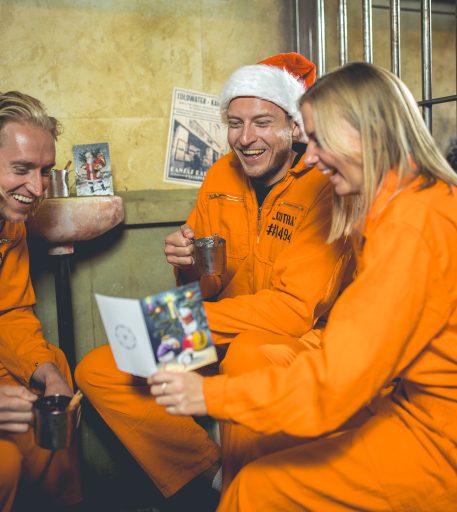 Welcome to Alcotraz
How will you use your time on the inside? Smuggle your liquor your way, or get help from the guards on the take? Get involved with Clyde Cassidy's bootlegging operation or keep your head down? From the real metal cells and the cocktail making inmates, to the crooked guards and the fierce Warden, this is Alcotraz. It's time to fulfil your sentence.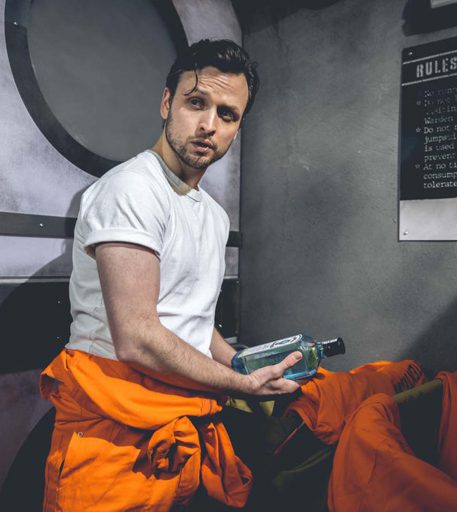 Join the Gang
You'll be fitted with a regulation jumpsuit and thrown in gen pop with the rest of the inmates. Clyde Cassidy has the guards on the take, they'll help you get your liquor into the right hands. You may meet the man himself, he runs a tight operation from the inside but is always looking for new bootleggers to join his gang.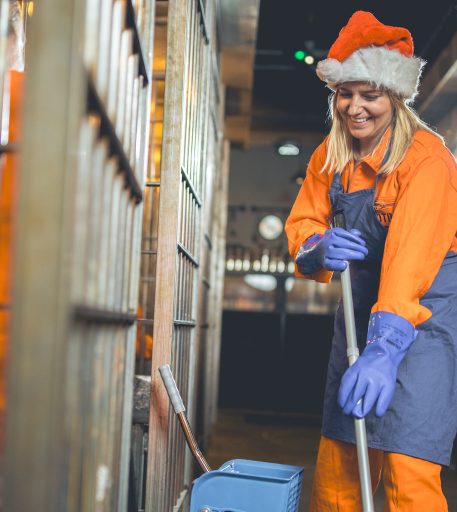 Your Sentence
You'll spend your time inside in a real metal cell which, depending on the size of your gang, can hold up to six inmates. Your sentence lasts one hour forty five minutes, no early release for good behaviour.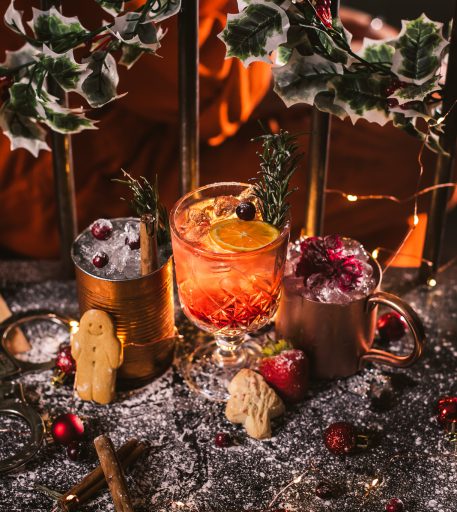 Your Liquor
Smuggle your alcohol onto the block and our cocktail making convicts in the canteen will keep you supplied with drinks for your hard work.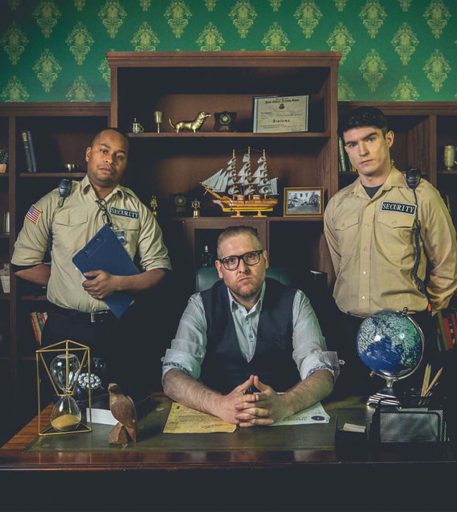 Your Time Inside
If he takes a shine to you Clyde Cassidy may let you in on the details of his operation, but more likely The Warden will try and push you for information, and there's no room for rats in Cassidy's gang. There's no visitation during your sentence, but the guards may help you get the word out to those on the outside.
Immersive and Unique Christmas Party Venues 
With cell blocks all over the country, you can celebrate Christmas in style with a night at Alcotraz. Whether you're booking a small gathering for your nearest and dearest inmates, or looking to hire a whole penitentiary for a corporate event or Christmas party, we'll have you locked up in no time.
When your sentence begins, and you step through the prison's doors, you'll be thrown right into an immersive prison storyline with you at the centre. You and your gang will be tasked with smuggling your contraband past the guards in order to get your hands on stunning bespoke cocktails by our in-clink mixologists, and there'll be real cells, great actors, prison radio and much more to enjoy.
Choose your city and get ready for a unique Christmas party that you'll be talking about for the rest of your 25 to life.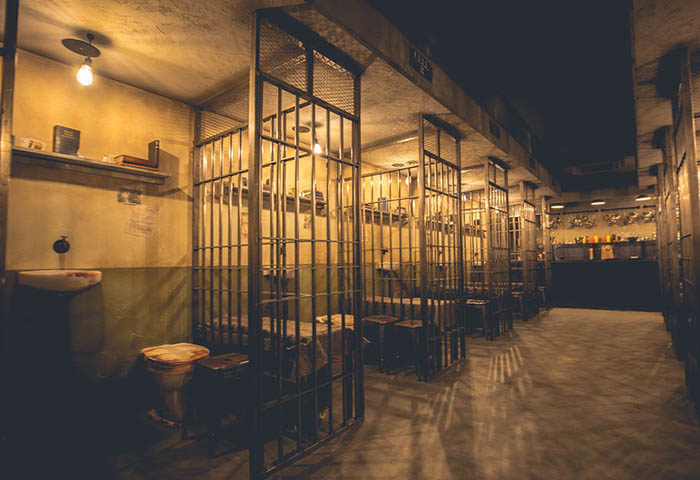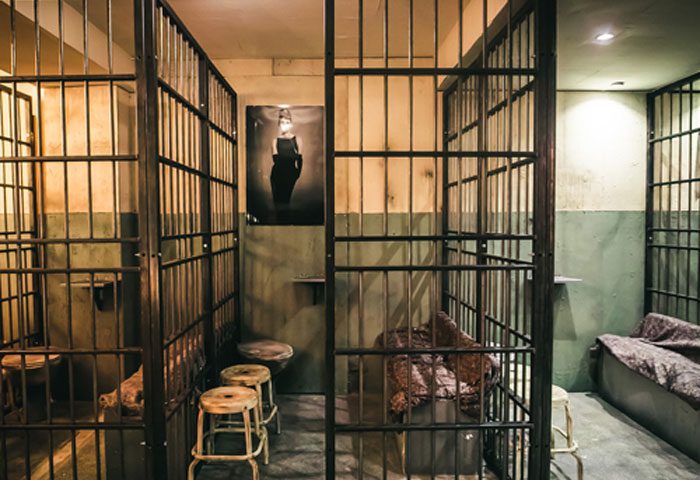 Brighton
Up to 40 Inmates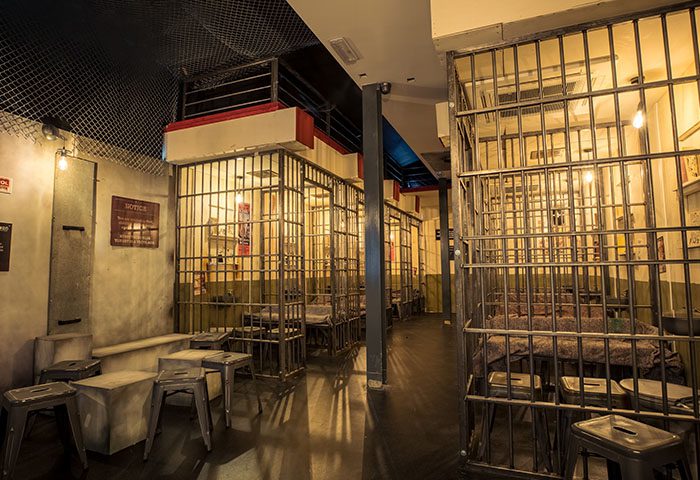 Manchester
Up to 80 Inmates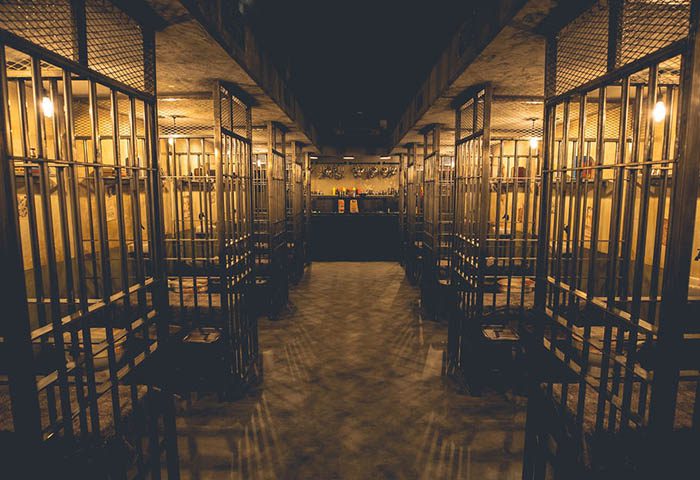 Liverpool
Up to 50 Inmates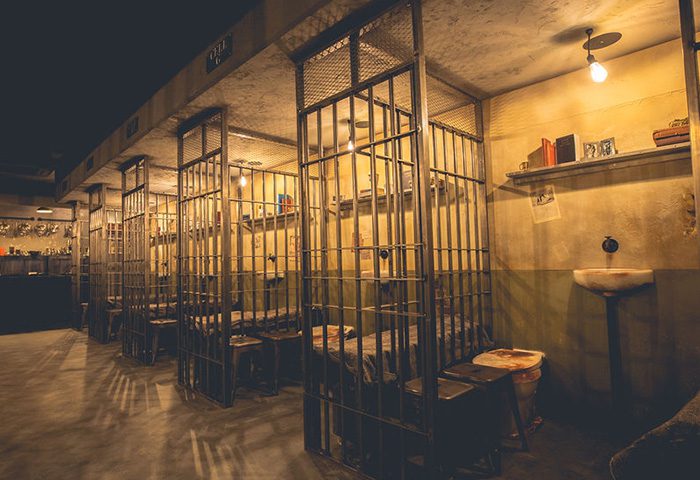 Christmas Party Packages
Whether you want to spend your sentence scheming against the Warden, or simply enjoy a drink in the clink, Alcotraz offers the perfect packages for you and your Christmas Party. With a range of fun missions and personalised plot lines that completely incorporate you and your whole party into the story, successfully smuggle your liquor inside and get ready to be served delicious cocktails in the most unique setting you've ever experienced.
Looking for a private Christmas Party Venue
For groups under 30 in size simply book here.
For groups over 30 we recommend privately hiring the venue, unlocking additional options such as extended durations with mingle time and food. Contact us to arrange your corporate Christmas party, drinks reception and any large party events here.
Christmas Party Gift Vouchers
Give the gift of rehabilitation this Christmas by sentencing a loved one to Alcotraz. Vouchers remain valid for one year from purchase. Shop now.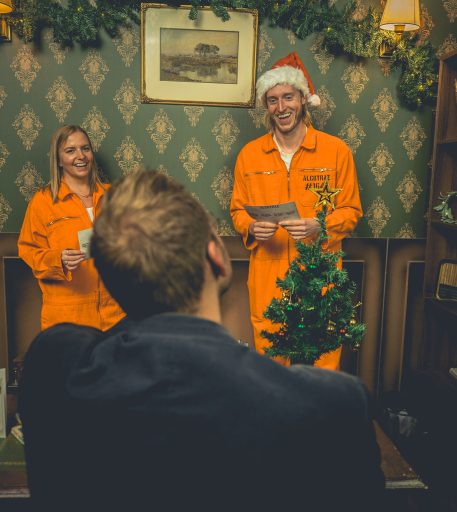 What Makes Alcotraz's Cells the Best Christmas Party Venues?
Fun Christmas party ideas start with crime, cocktails and immersive theatre! You've done escape rooms, now it's time to experience a lock in so entertaining you won't want to leave. Our events give you a theatrical experience that you are also part of all while wearing a jumpsuit and being served by our expert mixologists on the bar. Every person is catered for from drink preferences to performance involvement. Making Alcotraz the perfect space for all guests.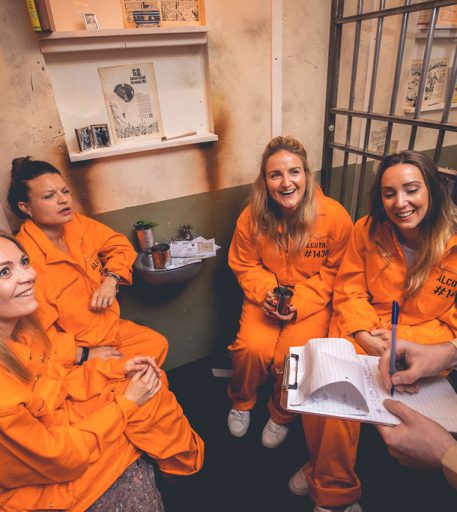 Office Christmas party
Challenge your invited office group of fun-loving criminals to spent time behind the bars for an unforgettable Christmas experience at Alcotraz prison. Contact our events team here to check availability in any of our venues and spaces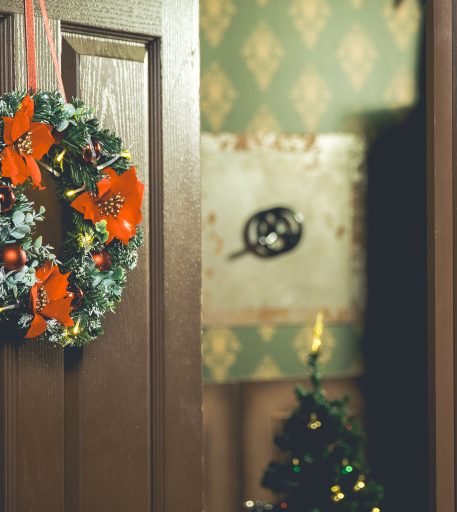 Unique Venues
Unlike your favourite Christmas party venues in London, Manchester, Brighton or Liverpool, Alcotraz locks you and your guests up to pay for your crimes and drink the evening away on the liquor you smuggled in with you. This is no escape room, the true fun of a shared Christmas party is when there's no escape!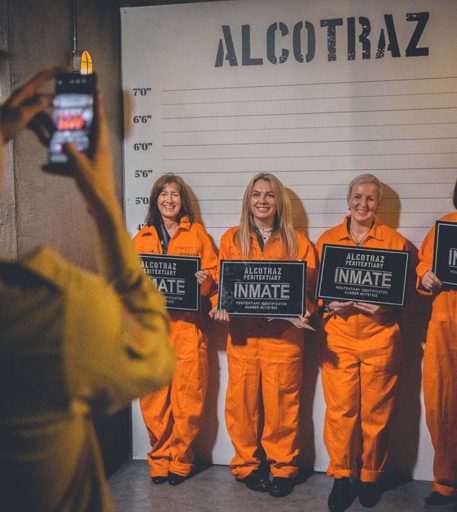 Ultimate Christmas Lock-In
So you are tasked with being the festive event planner for your friends in December? Or for the big office Christmas Party? Organising something a little more interesting than a private dinner or a London Pub? Allow us to end the search, nothing gets you in the Christmas Spirit like a stint in the clink! Perfect for a festive night out, Alcotraz is the ultimate Christmas lock-in.
Most fugitives opt to smuggle in their own liquor, however, when exclusively hiring the prison space, if you wish, allow our team of trained bootleggers to pre-arrange a secret stash of liquor for your guests.
When exclusively hiring the prison, have our canteen deliver food to your cell, whether it be a dinner of pizza rations or festive mince pies, our venue is happy to cater for your event and number of guests.
Booking online is so easy, whether it be for a work Christmas party or to just simply book a night out. If coming in a large group size there's options for exclusive use and more. Contact our event team here.
We recommend all events with group sizes over 30 should privately hire the venue for their party. Enquire about this here.
Better! There's a secret bar of expert cocktail makers ready to serve each person in your group and cater exactly to their tastes. Not a big drinker? We have delicious mocktail recipes. Prefer wine or beer with your prison sentence? Smuggle it in and we will gladly serve your wine while you serve your time.
The Warden might let you sing a classic Christmas Carol or two but if they catch you dancing they might think you've consumed contraband! Remember you're a bootlegger now and the Warden is always watching...
Absolutely! Alcotraz isn't just great for your Christmas party ideas, we lock up Hens, Stags, Birthdays and even wedding receptions! The ultimate private venue.