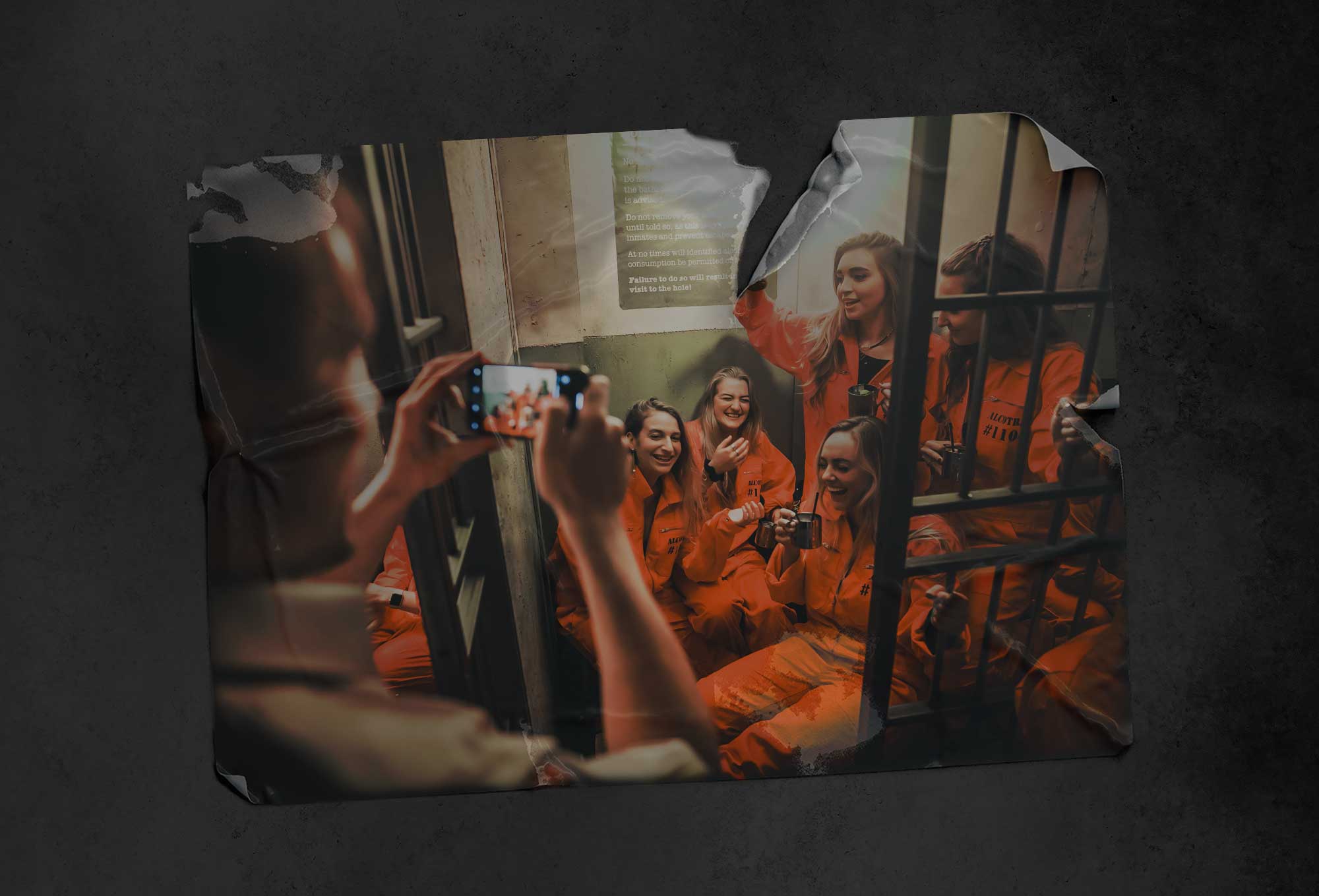 Hen Dos
Celebrate wed-lock with being locked-up. Grab your gang and celebrate your hen do with something completely different at Alcotraz. Whether looking for a unique hen do idea, or just wanting to out do the stag, Alcotraz makes the perfect venue with packages specifically tailored for groups of fun-loving criminals.
"What an amazing hen night! We had so much fun! Great value for money, and the cocktails were fab!! Definitely worth organising, bride loved it, honestly a great look for different hen weekend ideas"
"Didn't know what to expect, but wow it was so much fun! One of the best ideas we had! Fancy cocktails, great entertainment, plus I loved the orange jumpsuits! The bride thoroughly enjoyed it and it was the highlight of the whole weekend!"
"Such a great part of our weekend! Bar guys were great, one of the girls doesn't drink but she said the mocktails were fab. We were one of two hen parties in our show and both hens were loving it! Great idea, highly recommend, plus you get to tick prison off your bucket list!"
"The best activity from the hen weekend. We had been to a stylish bar before and then came to Alcotraz. We were so glad we did it as we didn't stop laughing from start to finish. If you are planing your hen and looking for something fun, this is a must do."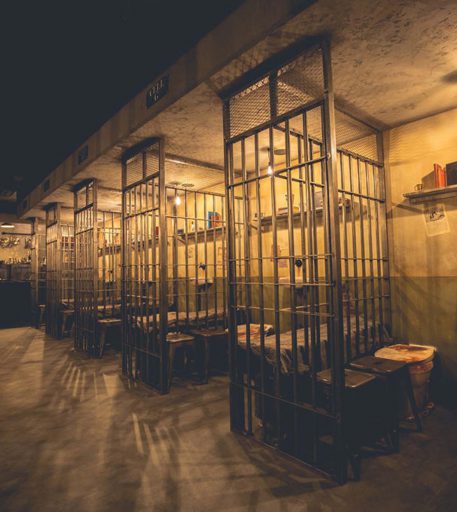 Welcome to Alcotraz
With great venues across four cities in the UK, Alcotraz is proud to be one of the most exciting experience for hens looking for a unique hen weekend. Plan, plot and scheme your way to the top of the prison system all whilst enjoying delicious cocktails from inside your cell.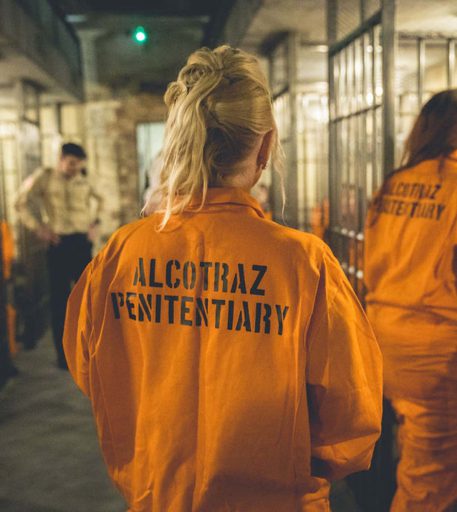 Your Time Inside
When you visit Alcotraz you step into a world where your life of crime caught up with you. Such scandal is just the ticket for a unique hen party, guaranteed to create brilliant and crazy memories with the girls you'll never forget! Spend some time with us behind bars, and let us entertain you with a hilarious immersive experience while you enjoy the expert cocktail making skills of our kitchen inmates.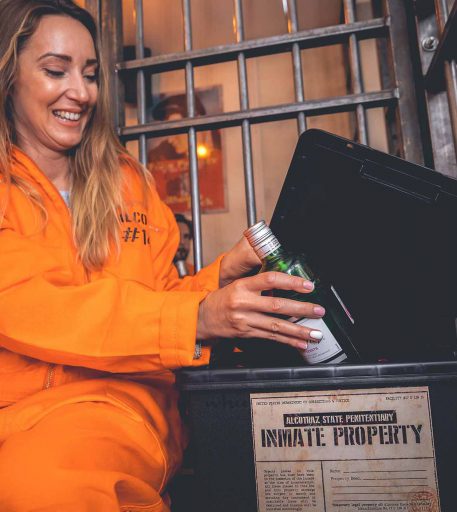 Your Mission
Once you're inside, you and your fellow fugitives are taken into an exciting world of mischief as you are instructed by a notorious bootlegging gang on the inside to smuggle-in liquor that gets used to make delicious cocktails for your gang.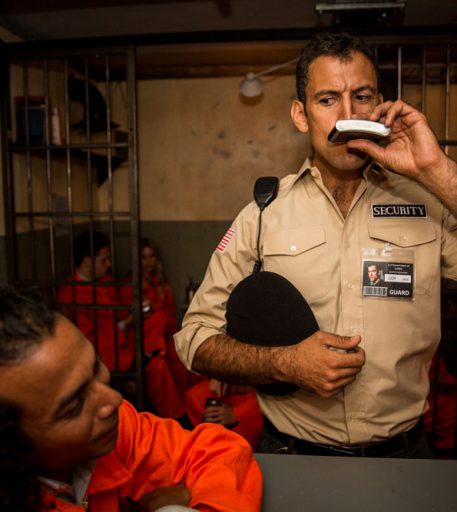 The Guards are Crooked
Our guards on site sign you in, hand your team their jumpsuits then help your whole group smuggle in their contraband. Yes, that's right. The guards are crooked and just as ready to enjoy contraband and party as you!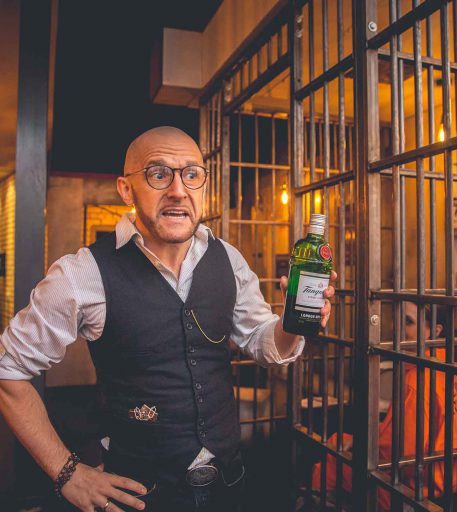 Just Watch Out for the Warden
The only person in your way is the Warden, who is sniffing around the prison ready to catch anyone breaking rules on contraband. Keep your smuggled liquor away your from the watchful eyes of the Warden and enjoy our finest bootleg cocktail making from our bar, just make sure you don't get sent to solitary! A unique hen party event sure to have to your group laughing until the end of your sentence and then some.
Immersive Hen Do Behind Bars
Inspired by Hollywood Film and TV that have brought to life popular prison stories, Alcotraz is a theatrical immersive experience of the highest kind. Alcotraz venues are more than just themed cocktail bars, they combine the very best of immersive theatre with a world-class cocktail experience and offer you a hen do activity that's perfect for small and large groups.
Featuring high spirits and plenty of hooch to go around the cell blocks, Alcotraz lets your gang discover their prison alter-ego and challenges them to smuggle their alcohol past the Warden and into the hands of the cocktail making convicts in the kitchen. Be as creative as you can with your ideas and attempts to smuggle-in liquor.
So get ready to step-back in time inside an American prison and grab your partners in crimes for a hen party you will be talking about for the rest of your 25 to life. Book now for the best hen party entertainment at your chosen location!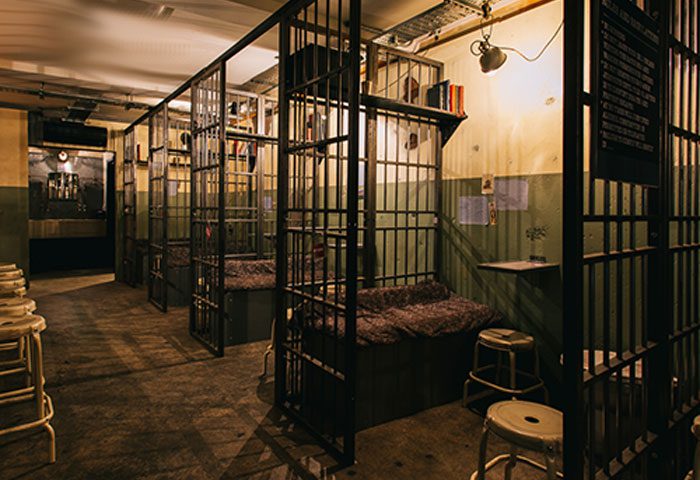 London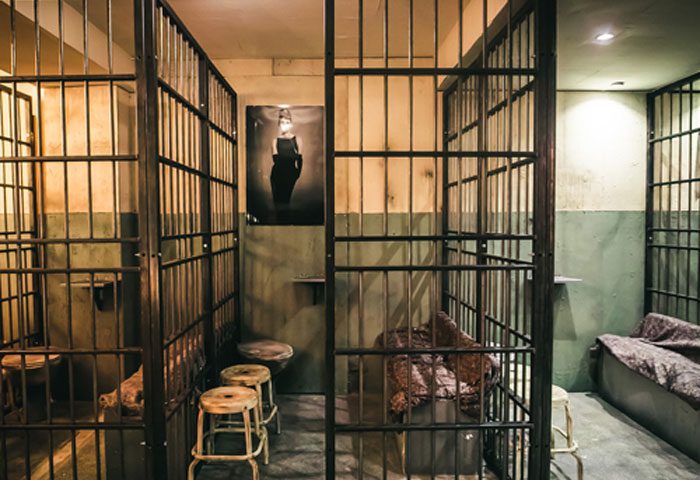 Brighton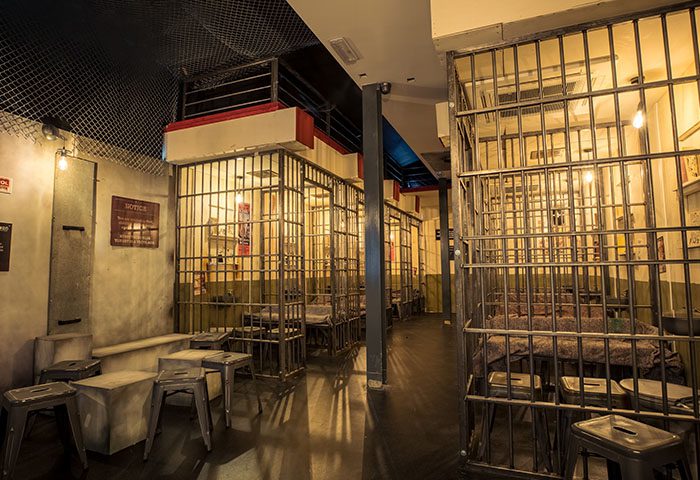 Manchester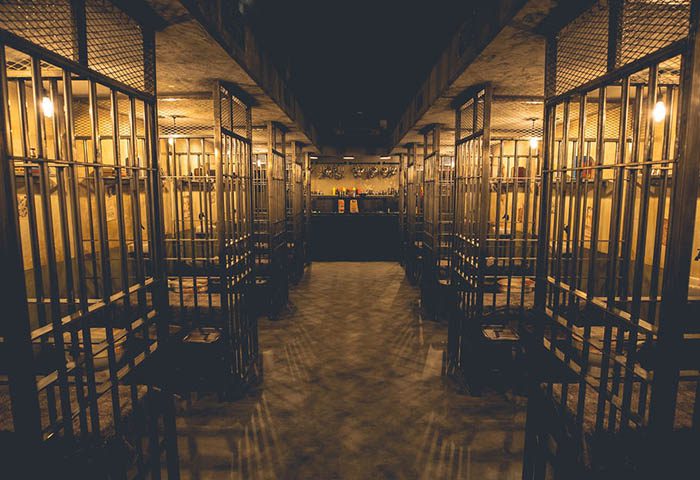 Liverpool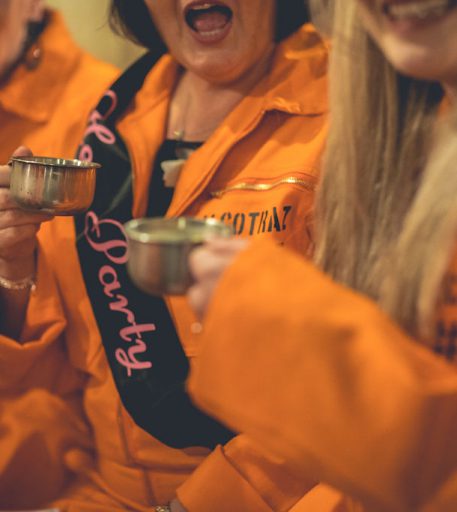 The Perfect Hen Party Idea
Hen party planning can be stressful stuff, but don't fret! With multiple shows a day we can easily slot into busy hen nights or hen weekends without breaking the budget. We can accommodate hen parties of all sizes and have locations across the UK.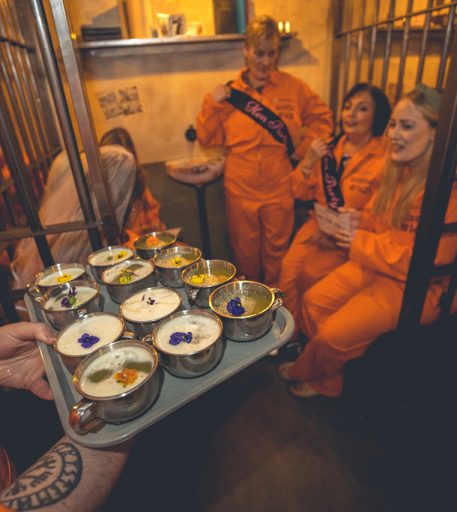 Unusual Hen Night Activity
Looking for an Want unusual hen party ideas? Look no further! Alcotraz is a one-of-a-kind way to enjoy some fun before the big day. Our highly skilled mixologists will bringing your smuggled spirits to life with hand-crafted cocktails to suit all tastes. Take a great weekend and make it the best weekend by making Alcotraz one of you hen activities.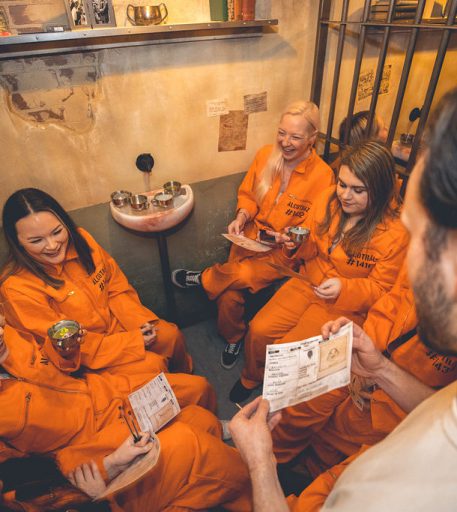 Something Totally Different
We offer a totally different experience from your usual hen party activities while still fitting in with your weekend whether it be spa days, live music or partying. Alcotraz is a fully immersive experience with a whole host of intriguing characters bringing the unique world to life.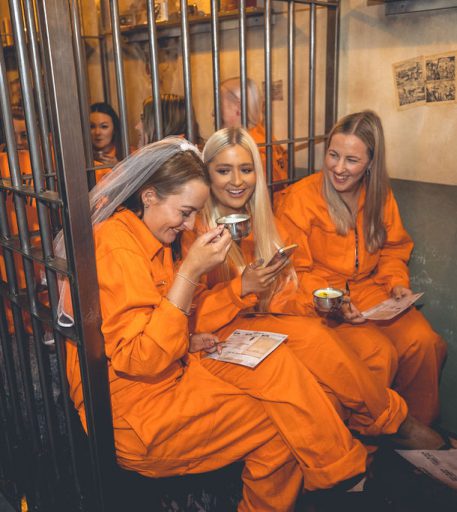 Hen Party Packages
Booking Alcotraz for your hen weekend activities is simple and stress free. Our website displays live ticketing availability making it easy find the best time for your whole gang and the bride to be to spend time in the big house.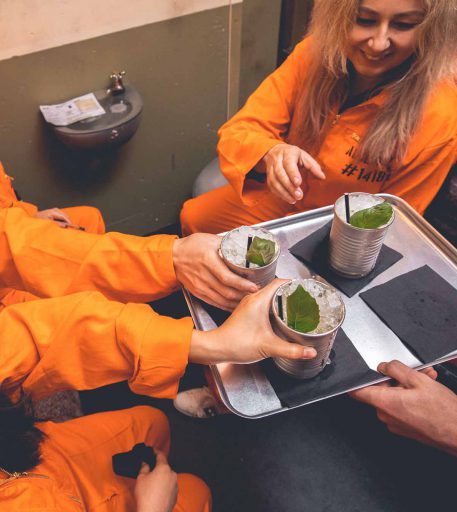 Go Untraditional
Fancy preparing for the wedding day by spending time in the clink? Couples that do crime together do time together! We have welcomed classic hen parties but also unique hen ideas by including both the bride and groom.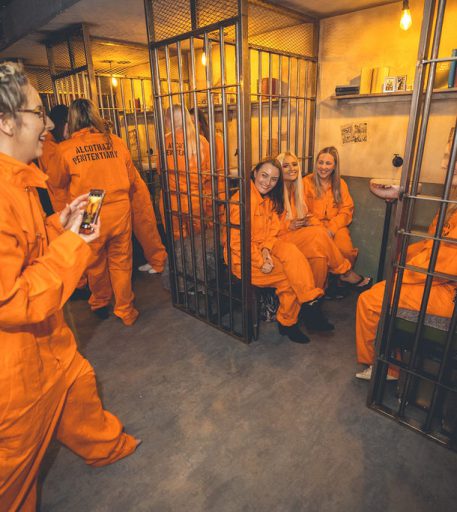 Our Recommendations
Planning out the perfect hen weekend? Let us save time with some more ideas. We recommend to serve your time behind bars at Alcotraz as a central activity amongst the fabulous days. Enjoy your freedom and start your day at a spa treatment to relax before heading to Alcotraz and serving time for your crimes. If you have a foodie bride then find a great restaurant to enjoy before finishing at a party or live gig to get you up and dance.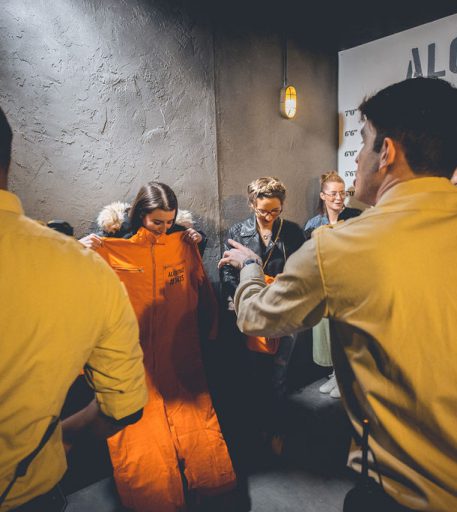 Private Hire
Looking to celebrate with a large group of fugitives? For groups on hen weekends with a hen party over 21 guests, we recommend to privately hire the cell block. Hiring your own speakeasy prison that promises to be one of the most unique venue hires in the country. Contact our events team to discuss details.