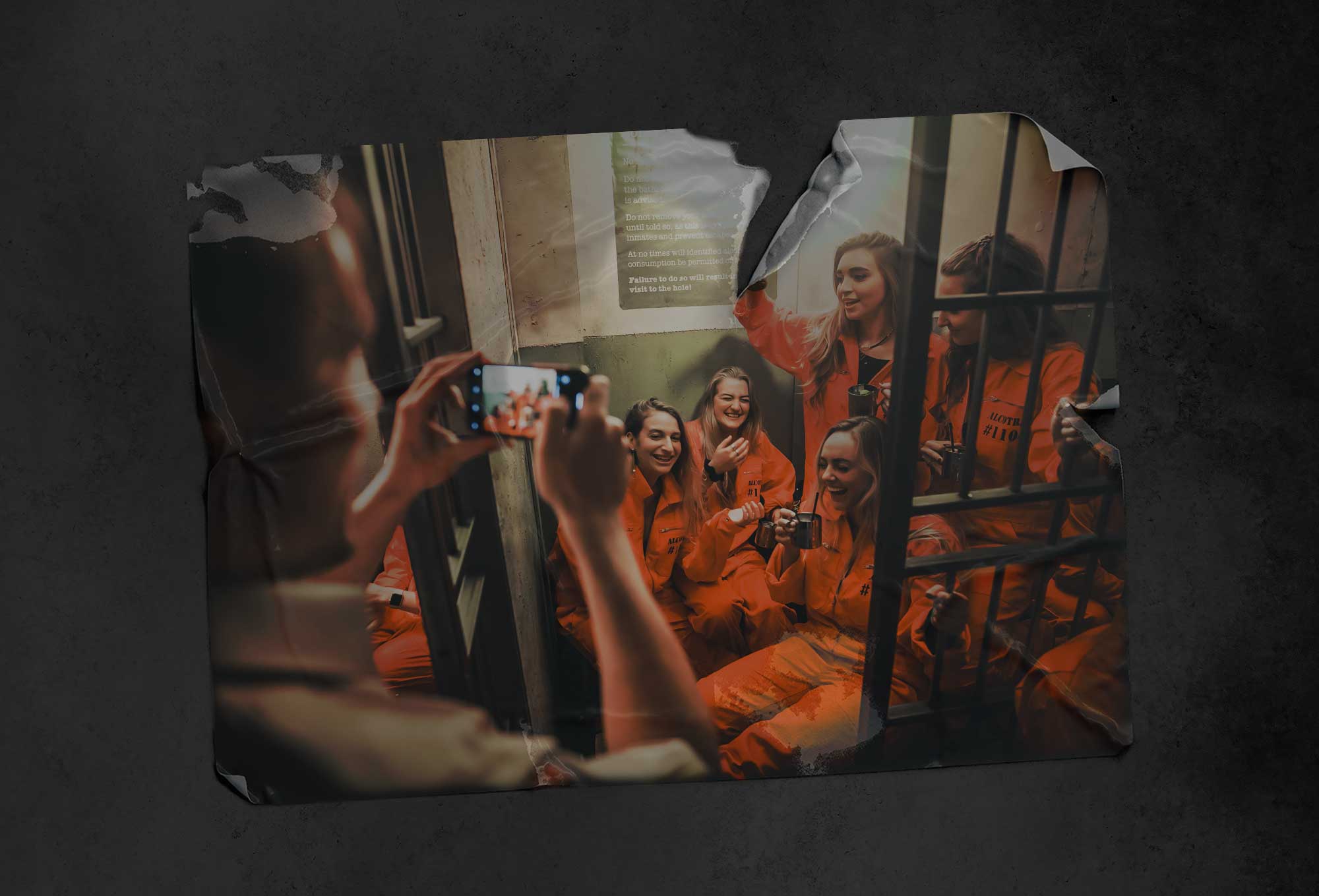 Team Building And Work Night Out
Your next staff night out or team building event just got criminal. Alcotraz is the bar behind bars and an exceptional immersive theatre experience for the whole office. With prison blocks across four cities including London, Manchester, Liverpool and Brighton, escape the norm and sentence your colleagues to time behind bars!
"Amazing venue and immersive experience for 32 of my colleagues from all over Europe - they said it's the best experience with work they have ever had!"
"The best thing we did in London, The whole team got into it. A must do if you are looking for something different"
"Alcotraz in Brighton did not disappoint, As a company we have had a number of staff do's but this was by far our favourite. We our planning our next trip in London to try it again! Thanks to all the staff for a great evening"
"Non-stop laughter, great fun & crackin' Cocktails! It was like having your own private pub in prison. No better way to enjoy a night out and would definitely recommend to others"
"A brilliant activity to do as a group after a long day in the office! It was the best bar experience I've ever had and was unusual to say the least! Would highly recommend and would go back to both the London and any others the franchise"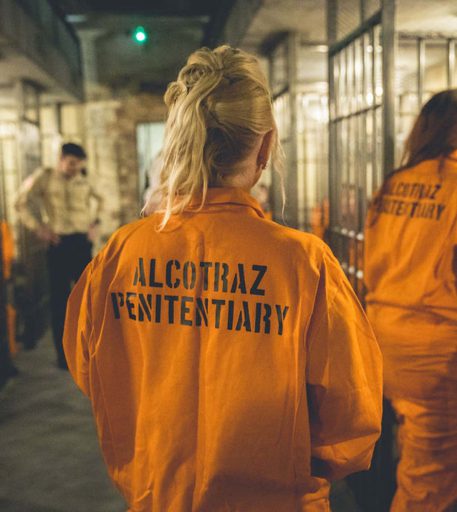 Serve your time
Once you're in, you and your colleagues are taken into an exciting world of mischief as you join a notorious bootlegging gang on the inside and smuggle-in liquor to be used to make delicious, bespoke cocktails.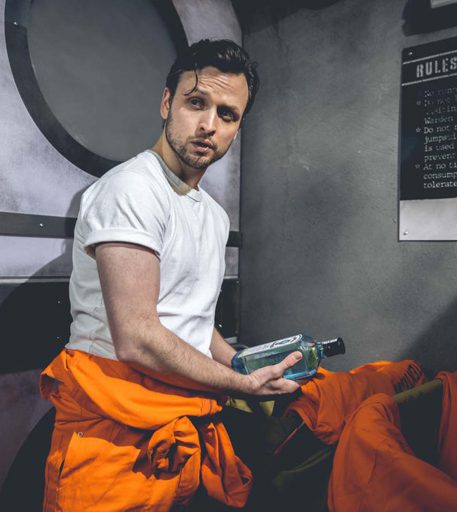 Your Mission, Should You Choose to Accept It
Your new line of business is to keep the Warden from finding out about the liquor smuggling operation whilst trying to create ways to conspire against them with the coolest person on the block, Inmate Cassidy.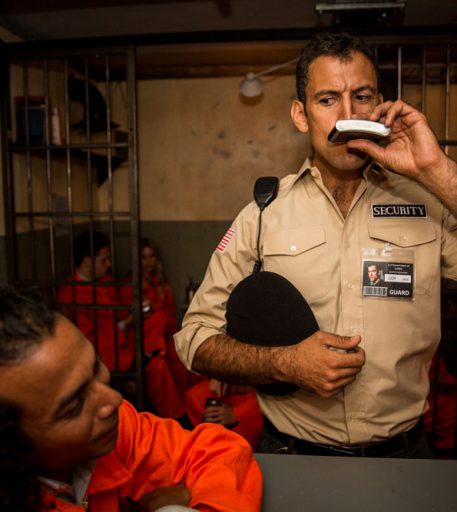 The Guards are crooked
Our Guards on site sign you in, hand your team their jumpsuits then help your whole group smuggle in their contraband. Yes, that's right. The Guards are crooked and just as ready to party as you!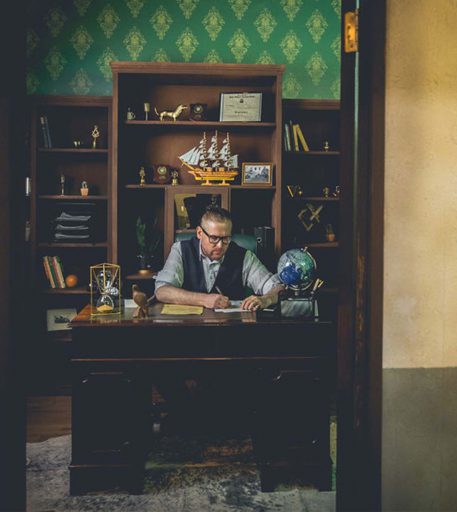 Just watch out for the Warden
The only person in your way is the Warden, who is sniffing around the prison ready to catch anyone breaking the rules on contraband. It's going to take organisation, communication and a winning team to create ideas, distractions and get ahead of the game. Could you be the next team to run the block? Alcotraz is the place to find out.
Team Building Activities and Work Socials
Whether you're the boss or a valuable member of the team, Alcotraz is the perfect venue for a company full of fun loving criminals who like drinks with their team building activities.
Immersive Team Building Behind Bars
Inspired by Hollywood Film and TV that have brought to life popular prison stories, Alcotraz is a theatrical immersive experience of the highest kind, perfectly suited to teams that like to use their ideas and creativity to enhance the story and have great fun along the way. Alcotraz venues are more than just themed cocktail bars, they combine the very best of immersive theatre with a world-class cocktail experience and offer you a team building event that's perfect for small and large groups.
Featuring high spirits and plenty of hooch to go around the cell blocks, Alcotraz lets your company team discover their prison alter-ego and challenges them to smuggle their alcohol past the Warden and into the hands of the cocktail making convicts in the kitchen. Be as creative as you can with your attempts to smuggle-in liquor.
What To Expect?
When you visit Alcotraz, you step into a prison sentence as a convict whose crimes caught up with you.
Whilst your accomplices might expect more regular corporate events across London and our other cities, organising a stint in prison in the name of team building gives guests the chance to explore their imaginations, forget the office and develop a reputation as a hustler behind bars.
Whether you want to spend your sentence scheming against the Warden, or simply enjoy a drink in the clink. Alcotraz offers the perfect packages for you and your teammates with fun missions and personalised plot lines that completely incorporate you and your whole company into the story. Plus the alcohol you successfully smuggled inside will be served to you in delicious cocktails throughout.
Throughout, you and your colleagues will be interacted with by our amazing performers, catering the entire event to your team building and aiding in the bootlegging business around you.
So get ready to step-back in time inside an American prison and grab your colleagues for a work party you will be talking about for the rest of your 25 to life.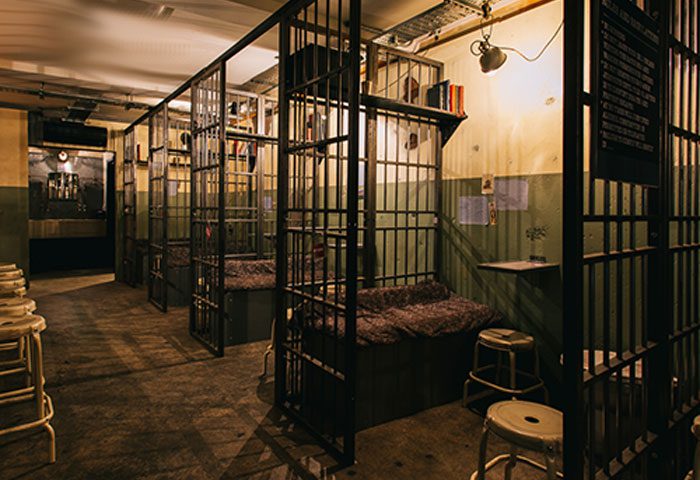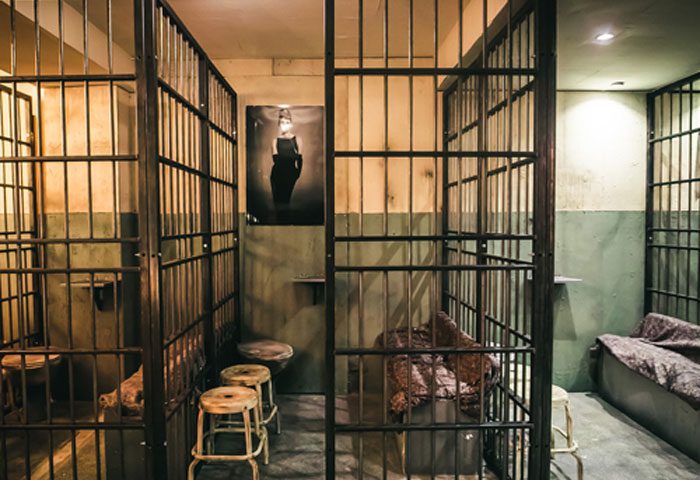 Brighton
Up to 40 inmates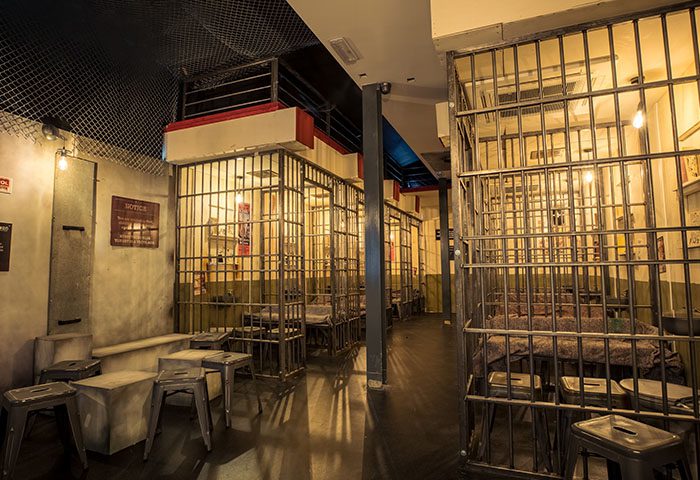 Manchester
Up to 80 inmates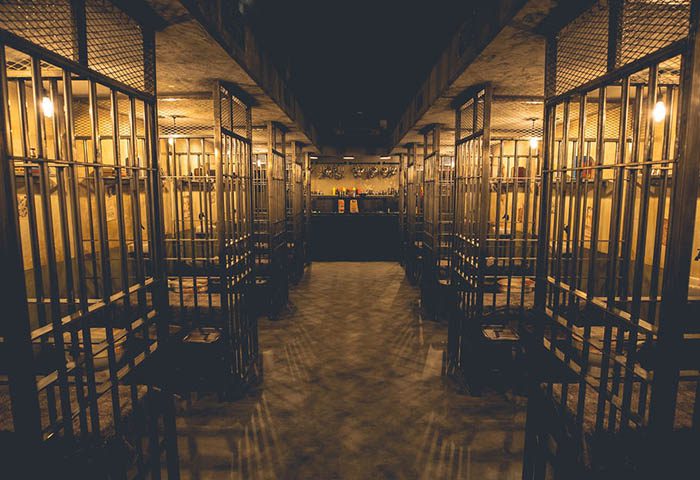 Liverpool
Up to 50 inmates
Inmates who have escaped said
Escape rooms? nah, let's get locked up instead. Busting out of prison has never been so much fun! See here what some of our previous inmates had to say about their stint in Alcotraz.
Looking for a private hire in a prison space?
We have cell blocks in London, Brighton, Manchester and Liverpool giving you the chance to host your staff night out in a number of cities.
So if you're looking for a fun private hire for you and your colleagues with the whole prison to yourselves, pre-arranged liquor and prison pizza rations, then you can find more information on booking private hire events here. For groups over 30 privately hiring the venue is the only way to get behind bars and unlocks exclusive benefits.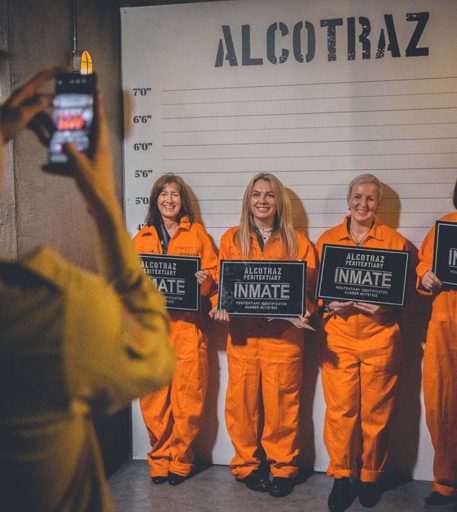 Something For Everyone
With a visit to the Wardens office, a mug shot with your team against the height chart and cell-fies on the prison phone, there's something for the colleague that likes to capture the memories, sit and drink with friends or dedicate your time to theatrical antics and club together to hustle the Warden.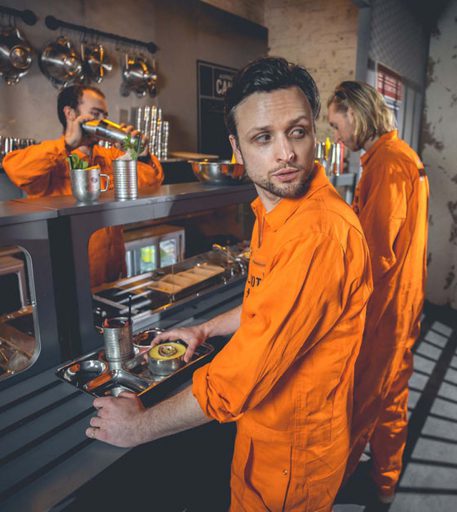 A Non-Traditional Office Party
You've had your office work events at happy hour, on the dance floor or in an escape rooms, but the true fun of team building is when there's no escape. Enter, Alcotraz! The bar behind bars.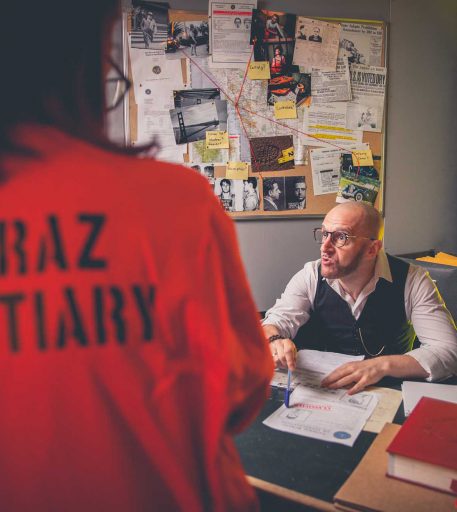 Where Do You Fit in The Story On This Unique Team Night Out?
Smuggling liquor is your challenge when you step into Alcotraz, but do you like a little back story with your block party? So do we. When it comes to your prison persona, Alcotraz encourages you to have fun with whatever you did wrong on the outside. Whether you're never out of the pub, take food from the office fridge, or you funnelled all your money into a swanky London restaurant or dingy launderette, get creative! We'll give you a parole card to fill out, you give us your account.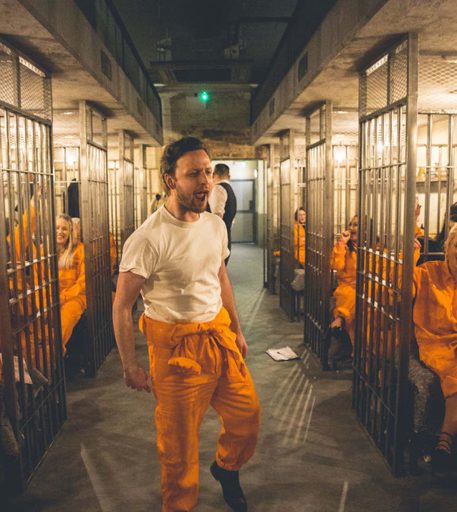 What's The Story?
The Warden of Alcotraz is trying to kill your group buzz and make you serve hard time. Luckily for you, Inmate Cassidy loves doing business with office parties while running a smuggling operation right under the Warden's watchful eye. If you and your colleagues manage to make a friend of Cassidy then the whole cell block could become your new office! As you create a great idea to overthrow the Warden and make your freedom a reality.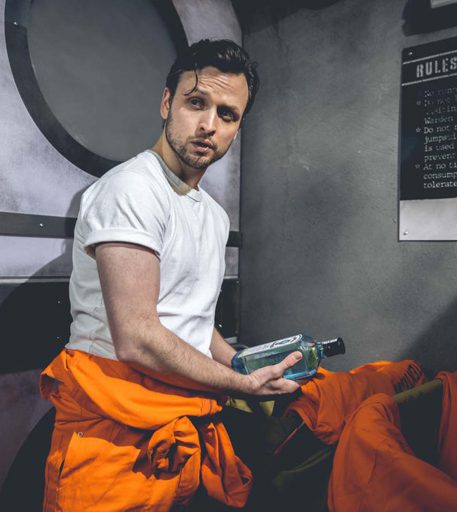 What's in it for me?
Don't worry, no great idea goes unrewarded. Cassidy has you covered on site when it comes to a little something extra for your hard work and you'll be in an exclusive prison club of hustlers and smugglers.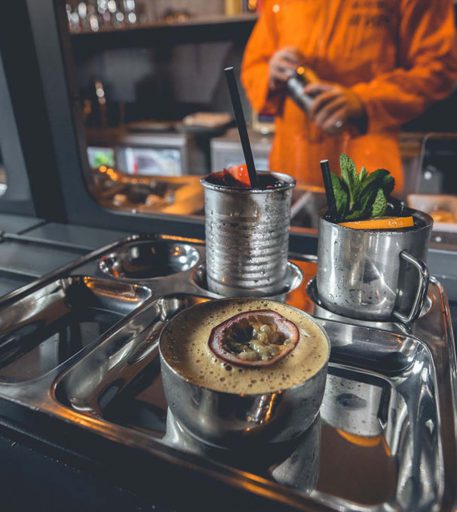 What Happens To My Smuggled In Liquor?
By the time you get to your cell, your liquor is successfully smuggled in! Soon after, a kitchen inmate will come to collect what you have and begin making you bespoke cocktails perfectly catered to your taste. whether you brought London Dry or JD, our mixologists are experts!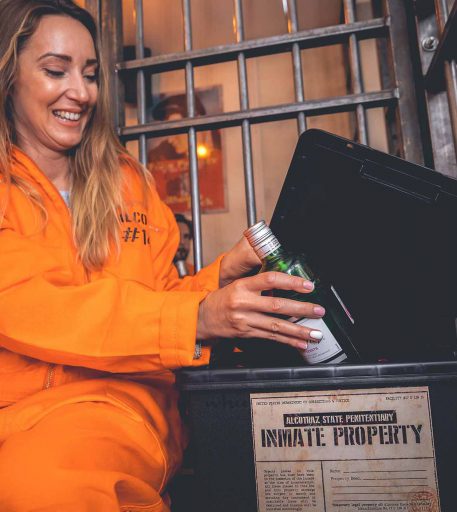 Over Achievers
If you brought so much booze that it would take a week to drink it, don't worry! We'll give all left over liquor back to you when you've served your time.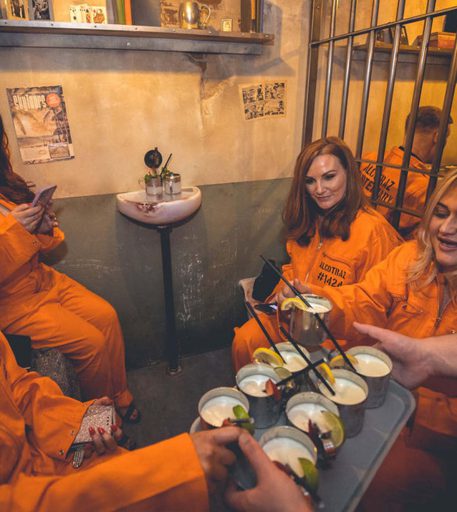 For the more innocent Inmates
If spirits aren't your go to, we welcome guests that would prefer to bring beer, or any other booze the folks in your company wants to smuggle in. Not a big drinker? That's fine too. Our bar team on site are more than happy to make mocktails, or serve you non alcoholic beers that you've brought into prison. No inmate goes without.