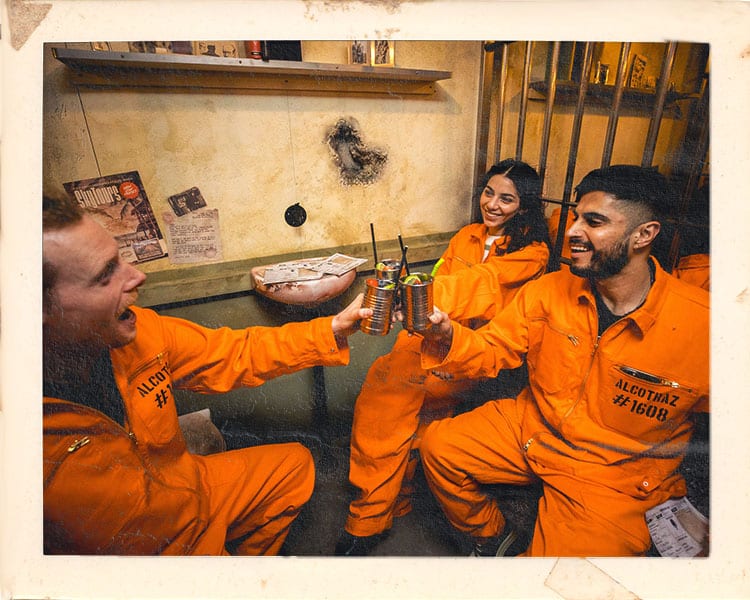 Cardiff
Cell Block Nine-One
Cardiff's ultimate immersive cocktail bar experience.
Behind the hustle and bustle of Cardiff's thriving city centre is an alluring, hush-hush, immersive prison bar experience like no other. This secret cocktail speakeasy is for rule-breakers only; do the crime, sneak in your liquor past the Warden and spend the night in the clink with your favourite reprobates.
"By far the best cocktail experience I've ever encountered! All the staff were incredible, not breaking character once. Every drink that came out was delicious and the attention to detail was insane! "
"One of the best experiences we've ever done. The whole experience was so much fun, the actors never broke character and the cocktails were delicious. 5 stars!"
"This was my second experience and it was just as fun if not even better this time. The actors really do make this a super fun & immersive experience. Highly recommend thank you!"
What to Expect
Immersive storylines, amazing actors and secret cocktails. ​
Get ready for a hidden, hands-on encounter of the criminal kind where you'll live and breathe an exciting theatrical prison experience. Alcotraz Cell Block Nine-One is Cardiff's only secret prison cocktail bar that is about to change your nights out. To some this is the City of Castles, to us it's the city of crooks, and you're about to serve time. So pass on the historic towers and take on the prison guards instead. 
Once convicted, you and your fellow inmates are taken into an exciting world of mischief, with instructions by an infamous bootlegging gang to smuggle-in your liquor of choice. Practice your poker face, smuggle your liquor and enjoy a night like no other as your contraband is transformed into a series of delicious, bespoke cocktails. There are no menus in prison, so you'll have the opportunity to get creative with what you want. Once you make it to your cell, your expert 'serving' mixologist will create something criminally delicious for you, to suit your tastes.
Beyond the booze, there is a rich and exciting experience as you become an integral part of one of our Alcotraz stories. Be swept away in this immersive event as our first class actors, mind-blowing real jail cells and prison radio ensnare your senses and transport you into a night like no other. Become the inmate, the janitor or even the mole with one of our incredible stories – we can't tell them without you!
Whether you're here for a hen party, a very different and far less boring type of corporate event, or you'd like the private hire – your cell, and your jumpsuit, awaits.
Be ready for fun, surprises and a sentence that you'll want to repeat again and again.
MONDAY
Closed for visitors
TUESDAY
19:05 – 20:50
WEDNESDAY
19:05 – 20:50
THURSDAY
19:05 – 23:15
FRIDAY
16:40 – 23:15
SATURDAY
12:00 – 23:15
SUNDAY
16:40 – 18:25
Location
Unit 9a Brewery Quarter, Caroline St, Cardiff, CF10 1AD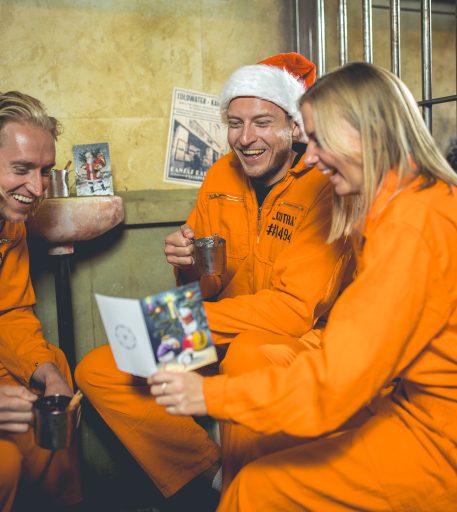 Christmas Convictions
Celebrate Christmas in style with a night at Alcotraz Cardiff. Whether you're booking a small gathering for your nearest and dearest partners in crime, or looking to hire the whole penitentiary for your corporate accomplices, we'll have you locked up in no time.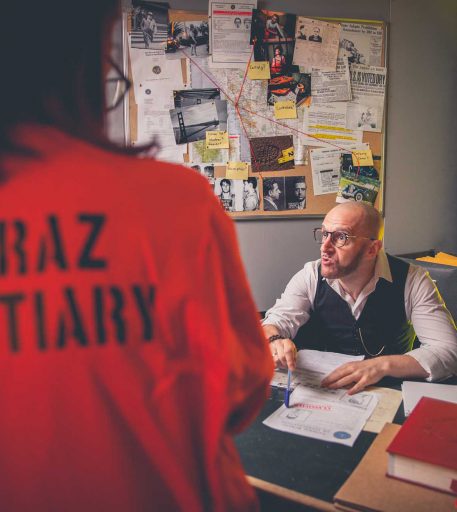 Corporate Event
Your sentence is what you make of it, so whether you're going up against the Warden, or simply trying to enjoy a smuggled drink in the clink, we have the perfect penitentiary experience for you and your teammates. If you'd like your own mission, or a personalised storyline for you and your company, then you won't find a better corporate event in Cardiff than what's on offer here at Alcotraz. Immersive, engaging and not to be beaten.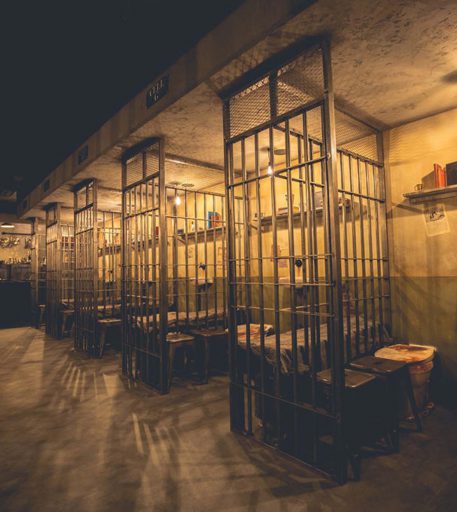 Private Hire
Want to put you and your entire friend group, hen party or event into Alcotraz solitary? Yes, you can have the whole cell block to yourselves if you're seeking a truly unforgettable event experience. If you'd like to book a block for a party, photoshoot or gathering, one of our Cardiff team can help make your immersive sentence completely bespoke.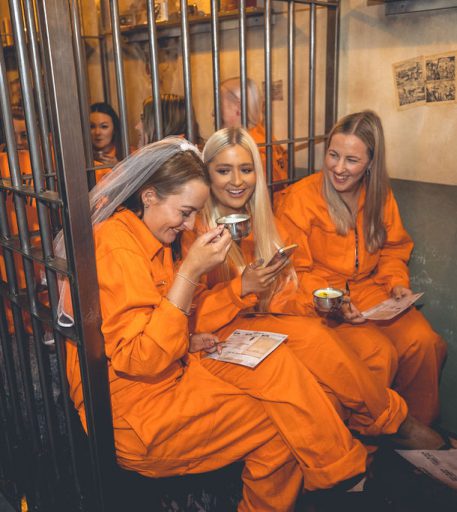 Hen Do
Want to get locked up before your nuptials are locked in? Choose Cardiff Cell Block Nine-One for a hen party to remember. Grab your gang, form a line up and celebrate with something completely, criminally different.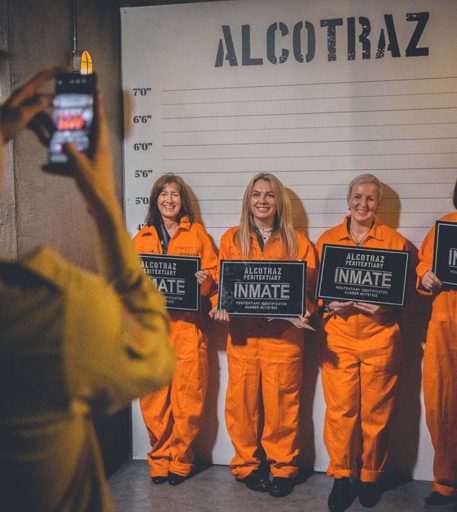 Gift Vouchers
Give the gift of rehabilitation by sentencing a loved one to Alcotraz. Vouchers remain valid for one year from purchase.